GET INVOLVED ON THE TEAM

I AM A FIRM believer in the collective power of individuals joined in a spirit of goodwill and generous giving to bring about the success of an organization. That's why we need you to get involved. - Justin Rudd!

Community Action Team, California, Inc., 3040 E. First Street, Long Beach, CA 90803

501c3/Fed. Tax ID# is 05-0545777


g TAX-DEDUCTIBLE
Please Support CAT • a 501c3 Nonprofit

RIGHT NOW, while the need is in your mind, won't you please donate? We receive no government monies, and depend entirely on people like you.

WE HOPE YOU share our love for animals, kids and the environment, and our wish is that you'll consider a gift of $25, $50, $100 or another amount so that we can continue to bring you and our community fun events and meaningful projects.

CHECKS can be made payable to CAT, Attn. Justin Rudd, 3040 E. First Street, Long Beach, CA 90803.

501c3/Fed. Tax ID# is 05-0545777

THE MAIN PURPOSE of the Community Action Team (CAT) is to promote social well-being among the general public. As a 501c3 nonprofit corporation governed by a board of directors, contributions to CAT are tax deductible and are used to help produce quality events within our community that benefit children, animals, and the environment.

C.A.T. IS AN UMBRELLA organization that includes:


• 30-Minute Beach Cleanup

• Belmont Shore Sidewalk Chalk Art Contest

• Bulldog Beauty Contest

• Camp Justin!

• Great American 4th of July Kids Bike Parade

• Halloween Kids' Costume Contest

• Haute Dog Contests

• Haute Dog Howl'oween Parade

• Haute Dog Poetry Contest

• Interfaith Blessing of the Animals

• Joy to the World! Christmas concert

• Long Beach Bake-Off

• Long Beach Christmas Cookie Contest

• Long Beach Father/Daughter Dance

• Long Beach Giving Project

• Long Beach Heroes awards

• Long Beach Losers

• Long Beach Mom Prom

• Long Beach Polar Splash!

• Long Beach Touch-A-Truck

• Long Beach Turkey Trot 5K/10K

• Miss Long Beach Pageant

• National Adult Spelling Bee

• National Kids Spelling Bee

• Operation Easter Basket

• Operation Santa Paws

• Red High Heels Walk

• Roses Are Red… poetry contest

• Say Cheese Long Beach! photo contest

• Sock-It-To-'Em

• Southern California Beard & Mustache Championship

• Southern California National Anthem Sing-Off

• Southern California Tattoo Championship


• Full event list and calendar HERE.








g RANDOM FACTS
About Justin Rudd!

1. Was honored to be included -- along with Magic Johnson, Rick Warren, Snoop Dogg, Adam Levine, and others -- in a listing of "The 25 most influential people in Southern California."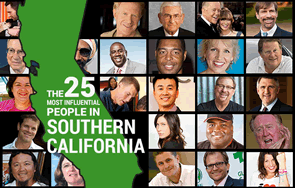 2. Justin founded and directs the 501c3 non-profit organization called the Community Action Team (CAT). He puts on about 35 community events, contests, and programs annually.

3. He has a business degree from Samford University -- a small, private, liberal arts school in Birmingham, AL.



4. Justin received the 2004 Outstanding Young Californian award presented by the California Jaycees Foundation.

5. He orchestrated the community candlelight vigil that was organized in only 48 hours and brought an estimated 5,000 people to Long Beach's World Trade Center the Friday following Sept. 11, 2001. Ten years later, in 2011, he organized a 10-year anniversary walk/vigil.

6. He lived the first 26 years of his life in Southeast Alabama (near Florida and Georgia). He was born and raised in the town of Ozark (spelled backwards is KRAZO), population 13,000.

7. He has lived in California since 1995.

8. He was elected and served as class president all four years of high school and his senior year in college.

9. Was in Lambda Chi Alpha fraternity in college and was elected Brother of the Year his junior year. He also served as social chairman, secretary and vice president.

10. Elected Homecoming King by the student body his senior year in college.

11. Helps women to prepare for pageant interviews (including Miss USA, Miss Teen USA, Miss America, Mrs. America, Mrs. United States, Mrs. International, and more).

12. He has 14,000 followers on Facebook.

13. Sleeps with the noise and air circulation of an air conditioner fan on high.

14. At age 5, he broke his femur (bone that runs from the knee to the hip) when his bike slid on a pile of leaves on the family's steep driveway. Was in a body cast and in traction in the hospital when he turned 6 years old. During recovery, his family pushed him around in a green wheelbarrow.

15. On Feb. 9, 2005 Justin received the statewide Environmental Volunteer of the Year Award presented by Keep California Beautiful.
JUSTIN HAS DONE all of these paying jobs:
1. Hand double for Jim Carrey
2. Lawn care/gardener
3. Lifeguard
4. Singer at Disneyland
5. Furniture salesperson
6. Janitor
7. Group fitness instructor
8. Beach boot camp instructor
9. Vegas performer
10. Background extra for film/TV
11. Regional theater performer
12. Photographer
13. Public relations executive
14. Inspirational speaker
15. Substitute school teacher
16. Nonprofit executive director
17. Newspaper columnist
18. Pageant coach
19. Personal trainer
20. Life coach
21. Author
22. College dorm resident assistant
23. Baking instructor
24. Pageant director
25. Performer at the Hollywood Bowl
26. Live TV singer at the Superdome
27. Performer at El Capitan Theatre in Hollywood
28. Christmas caroler
29. Italian restaurant employee
30. Outdoor Christmas lights technician
31. Cater waiter
32. Interior decorator
33. Game show participant
34. Newspaper subscription sales
16. He graduated fifth (of 219) in his class from Carroll High School in Ozark, Alabama, in 1987. He was president of the National Honor Society; received top subject matter awards for musical theatre and choral music; was in Mu Alpha Theta (math honor society), the Spanish honor society, Key Club, Fellowship of Christian Students, madrigal singers, and Future Business Leaders of America; took all honors and AP classes that were offered; and was founder and president of the Bleacher Screechers pep club.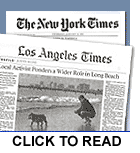 17. Events and activities he has organized have been featured on every Los Angeles-area TV station and the Tonight Show with Jay Leno, the TODAY Show, Fox News, CN8, the BBC, US News & World Report, PARADE Magazine, IN magazine, Blade magazine, Elle, Los Angeles magazine, Parenting OC, LA Parent, Orange Coast magazine, Coastal Living, LN, Long Beach magazine, AAA Westways magazine, Dog Fancy, Fido Friendly, DogFriendly.com, BARK magazine, Reuters, Mary Engelbreit's Home Companion magazine, Northwest Airlines World Traveler magazine, The New York Times, The Los Angeles Times, The Orange County Register and every local paper, radio and cable station in the Long Beach area.

18 He has driven every inch of Interstate 10 from the Atlantic to the Pacific — a few times.

19 He loves to photograph dogs. TAKE A LOOK.

20 He likes to make mini-movies. CLICK

21 He does not drink alcohol or do drugs. Never has.

22 He climbed to the top of Mt. Kilimanjaro in Tanzania on Fri., July 10, 2015. Did the 6-day climb to raise funds for AIDS orphans in rural Kenya. PHOTOS

23 Justin made it to the final-18 for season two of a reality show, "King of the Jungle" on Animal Planet and was seen on the casting special.

24. He very rarely goes to the movies, but in the past few years has seen: Enchanted, Knocked Up, The Interpreter, Monster In Law, Meet the Fockers, The Incredibles, Polar Express, Something's Got to Give, Shrek 2, Spiderman 2, The Aviator, Up, the Fantastic Mr. Fox, Rio, Ice Age 4 and the Peanuts Movie. Has not seen Titanic or Avatar.

25 He doesn't watch TV and doesn't have cable.

26 He drove a 60-passenger school bus for three years during college.

27 He gets more than 50 e-mail messages a day, on average, not including spam or Facebook messages.

28 He does not have a cell phone. Never has had one.

29 Appeared in "the mob" of 1 vs. 100 on NBC in Dec., 2006.

30 Has run a marathon, four 1/2 marathons (most recently one in Kenya in Oct. 2014), six triathlons, several of the 10K Mud Runs, and numerous 5K and 10K races. Finished 35th (2,000+ runners), and 8th in his age group at the 10K Mud Run at Camp Pendleton June, 2003. Time: 55:12.

31 Was the hand double for Jim Carey in the movie Liar, Liar.

32 Doesn't wear jewelry or watches.

33 Was a K-12 substitute school teacher for the Long Beach Unified School District for two years.

34 When he first moved to Long Beach, Justin washed cars, cut grass, and cleaned offices and toilets to make extra money.

35 He sang for Disney at the world premiers of Hunchback of Notre Dame and Mulan.

36 Was a Dickens' Caroler and a singing sergeant in the Toy Story show at Disneyland.

37 Has performed at the Hollywood Bowl, the Superdome, Las Vegas, Disneyland and the El
Capitan Theater in Hollywood.

38 Has signed his name with an exclamation point (Justin!) since middle school when he saw a contestant from California, Kellie Foster Moore!, in the Miss Teen USA pageant sign her name with an an exclamation point across the TV screen.

39 Pet peeves are telemarketing, roadside and beach litter, smokers who throw cigarette butts on the ground, and drivers who don't use turn signals and/or needlessly use their horn.

40 Has had his identity stolen three times with credit card fraud.

41 Has read The Bible from cover to cover.

42 He enjoys grilling and baking. See photos.

43 Has founded and has organized the monthly "30-Minute Beach Cleanup" for more than 18 1/2 years.

44 Born 6-6-69.

45 His ancestors are from Germany, Sweden and England.

46 He has 14 active Web sites. Links to all can be found at www.JustinRudd.com

47 His parents, twin brother, three sisters and both grandmothers still live close to where he grew up in southeast Alabama. He has six nieces and three nephews.

48 His fraternal twin Jason lives in Dothan, Alabama, and was a two-time city councilman. Jason is past-president of the National Peanut Festival.

48 His favorite genres of music are soft rock, country and Christmas. Some musicians he currently enjoys are Luke Bryan, Florida-Georgia Line, and Karen Carpenter.

49 His favorite Long Beach restaurants are Nick's on 2nd, Lucille's BBQ, The Attic, Claim Jumper, KPasta, Enrique's, and Open Sesame.

50 He teaches body sculpting classes at the Belmont Athletic Club in Belmont Shore and has taught and sub taught there for about 20 years.

51 He has traveled in Brazil, Zambia, Zimbabwe, London, Spain, Germany, France, Italy, Greece, Mexico, Canada, Hawaii, Switzerland, Austria, Liechtenstein, Uganda, Tanzania, and Kenya.

52 For 11 years, he taught "Sand Challenge" Beach Boot Camp classes every Saturday and most Sundays (and many Wednesdays).

53 He has profiles on YouTube, Twitter, Instagram and Facebook.

54 His birthmark is hidden.

55 He likes premium ice creams. Anything with chocolate (the darker the better) and peanut butter is best. Never with other nuts. He can make homemade ice cream, too.

56 He doesn't have or use a hair dryer, brush or comb (and has not since high school).

57 At graduation from high school, he received an award for 12 years of perfect attendance and was selected "class favorite" for three years.

58 REMOVED

59 He enjoys digital photography. SEE PHOTOS from his "A Day in My Life in Belmont Shore."
60 Justin sends out many free e-newsletters (dog lovers, kids, beach cleanup, fitness enthusiasts) to more than 53,000 unique subscribers. subscribe

61 He led an effort that allowed, for the first time in more than 30 years, dogs to play on a city beach on Sunday, June 24, 2001. He also spearheaded the establishment of a daily leash-free dog beach in Long Beach that began Aug. 1, 2003. The area is now called Rosie's Dog Beach, after his bulldog Rosie that inspired its creation.



62 He was on Jay Leno with his bulldog Rosie on Good Friday 2003 to talk about the Haute Dog Easter Parade for Charity that he organizes.

63 His nickname in college was "For You" — short for his freshman class presidential campaign slogan: "This Rudd's For You" (a takeoff of the Budweiser commercial, This Bud's for You). Currently, his partner calls him "Smiley."
64 His favorite instruments to listen to are the cello, French horn, oboe, pipe organ, and piano.

65 He has a slight Southern accentand sometimes says phrases like "fixin' to" and "all ya'll."

66 He doesn't care for marshmallows, eggs, lollipops, most candy bars, sushi, rare meat, coconut or walnuts.

67 He has a motorcycle license and a mat gray Vespa GTS 300 SuperSport scooter that can go approx. 80 MPH and is freeway legal.

68 He Is 6'1, 185, blue eyes, brown hair, athletic build.

69. At Samford University he sang "second bass" four years in the a cappella choir.

70. He is a Christian and loves Jesus. He's part of a prayer chain.

71. He has a pink dot at the bottom of his driver license. CLICK

72 Red Bull sent Justin to Rio after he hosted the U.S.A. preliminary to find a sand runner to participate in the international "Giants of Rio" competition. SEE PHOTOS from his Dec. 2004
trip.

73 Justin founded and organizes Belmont Shore's Bulldog Beauty Contest (world's largest bulldog event), the National Kids Spelling Bee, and the National Adult Spelling Bee.

74 Justin recycles.

75 He helped to lead the effort to allow dogs to legally dine on restaurant patios in Long Beach.

76. His bulldog POTUS sure does snore!

77 His favorite dessert is the warm butter caker from Nick's on 2nd. He can also make it from scratch.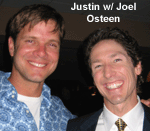 78 He admires Jesus Christ, Sandi Patty, Hillary Clinton, Bill Clinton, Barack Obama, Joel Osteen, Oprah, Ellen, positive thinkers, people who smile, people who give, those who serve, those who volunteer and single parents.

79 He moderates 39 Facebook fan pages, including the 100,000+ fans of "Long Beach, Calif." Click to be a fan.

80 He does not have a car.

81 In high school he represented his school at Boys State, was selected as Good Citizenship Boy, played percussion in the band, sang in the choir and was the lead actor and student director in school musicals.

82 His name was on the ballot for District 3 Long Beach City Council for the election on April 11, 2006. He decided not to campaign and did not win.

83 He rarely eats pasta. When he moved to Los Angeles and didn't have much money, he ate spaghetti a few times a day, every day.

84 Sometimes the local papers say things about Justin! READ STORIES

85 Justin and his first bulldog Rosie were featured on an episode of HGTV's Going Home as they traveled home to Ozark in 2001 to celebrate his birthday with his twin.

86 Justin and his late bulldog Rosie were on a game show on Animal Planet. It was called You Lie Like a Dog, and was developed to raise money for animal charities. Together, over the years, they helped to raise more than $l million for charities.

87 He is published.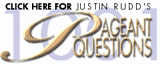 He compiled Justin Rudd's 1,001 Pageant Questions (Vol. 1 & 2) and 150+ Mrs. Questions, which are used by pageant contestants, judges, directors and coaches around the world.

88 He's been with his partner, Ralph Millero, for more than 15 years.

89 He feeds wild birds and squirrels.

90 On Dec. 20, 2006, Justin was interviewed live on FOX NEWS CHANNEL on the Fox & Friends show, following Donald Trump's announcement to not fire the current Miss USA Tara Conner. Justin's client was Miss Calif. USA Tamiko Nash, the 1st Runner-up to Miss USA 2006, who was expected to take over the crown.

91 He wrote the "Haute Dog" column in the Grunion Gazette from May 2005 - May 2007.

92 Some of the live performances that Justin has seen include Diana Ross, Dolly Parton, Amy Grant, Sandy Patti, Janet Jackson, Vince Gill, Reba McEntire, Celine Dion, Alan Jackson, Little Big Town, KC & the Sunshine Band, Olivia Newton-John, Alison Krauss, Sting, Barry Manilow, Cher, Cindi Lauper, Donna Summer, Gloria Estefan, Jason & DeMarco, Jessica Simpson, Harry Connick Jr., John Tesh, Josh Groban, Kathi Trocolli, Kool & the Gang, LeAnn Rimes, Vanessa Williams, Maureen McGovern, Martina McBride, Michael Buble, Michael W. Smith, Steven Curtis Chapman, Tina Turner, Lee Ann Rimes, and Tony Bennett.

93 He received the Outstanding Environmental Achievement Award from the EPA in 2005.

94 Justin ran the Long Beach 1/2 Marathon (13.1 miles) in 2007 and 2011 and finished with the same finish time of 1 hour 37 minutes -- or a 7:26/mile pace. That's 218th out of 6,026 runners in 2007/ and 324th place in 2011 with 10,715 finishers!

95 LBPOST.com's MOST POWERFUL PEOPLE LIST includes Justin! in the top-10 for 2007, 2008, 2009, 2010 and 2011.

96 Justin believes in miracles.

97 He listens to podcasts. Currently, he listens to the NBC Nightly News, Joel Osteen and Grammar Girl.

98 Not a fan of group meetings, committees or early mornings.

99 He ran a half-marathon with Kenyans on Oct. 5, 2014 in a rural town outside Nairobi.

100 Ran 120+ miles within two weeks for a run/walk challenge hosted by The Belmont Athletic Club in May, 2011.

101 Ran every every public street in Long Beach by completing 5 to 12 miles daily during 161 runs from May 7, 2013, to Jan. 12, 2014. That's 1,006 miles (equivalent of more than 38 marathons in just over 8 months).

102 He helps people living on the street.
Some examples of people Justin has helped:
• Sunshine, 3.9.17: JustinRudd.com/sunshine
• Louie, 3.10.17: JustinRudd.com/louiet
• Detroit, 3.11.17: JustinRudd.com/detroit
• Louisa and Danny, 3.12.17: JustinRudd.com/louisa
• Nicole, 3.12.17: JustinRudd.com/nicole
• Paul, 3.13.17: JustinRudd.com/pauld
• Paul, 3.14.17: JustinRudd.com/detroitb
Read all the stories: JustinRudd.com/homeless

103 He is an avid reader, averaging a book every 3 or 4 days during COVID. See all the books he's recently read at JustinRudd.com/bookclub

Sign up for Justin's Email Newsletters


Check out Justin's Long Beach, Calif. page:





APPROX. 4,000 runners and walkers take part in Justin's annual Thanksgiving Day Turkey Trot 5K/10K in Long Beach, Calif., to raise funds for his 501c3 Community Action Team (C.A.T.).

Justin Rudd! & His late Bulldog "Rosie" featured on Cover of Westways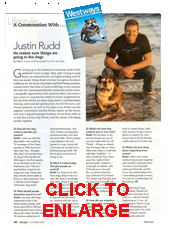 He makes sure things are going to the dogs.

GROWING UP IN THE ALAMABA COUNTRYSIDE, Justin Rudd preferred horses to dogs. Then, after moving to Long Beach he adopted Rosie, an English bulldog, and his fate was sealed. Today, Rudd is known for the Haute Dog Easter and Howl'oween parades, annual events that draw as many as 700 dogs... FULL STORY

JUSTIN RUDD PHOTOGRAPHY. Dogs and people on the beach at sunset. MORE PHOTOS.