MARK TWAIN once wrote: "Twenty years from now you will be more disappointed by the things you didn't do than by the ones you did. So, throw off the bowlines. Sail away from the safe harbor. Catch the trade winds in your sails. Explore. Dream. Discover."

MY MOTTO IS "EXPLORE. DREAM. DISCOVER."

I WANT TO Explore, Dream and Discover as much as possible in my life here on earth, and I want my Web sites to empower, equip and incite others to do the same.

I WANT TO help folks to find something new and exciting to do and experience. That's why I formed my charitable organization and named it the "Community Action Team"— a name that I feel encompasses all the varied activities and events that I have (and will continue to) organized for the good of our community.

WHAT CAN I DO to help you explore your potential, make a dream come true or discover new frontiers? I hope to hear from you.

Yours truly,
Justin Rudd!


THE MAIN PURPOSE of Justin's Community Action Team (CAT) is to promote social well-being among the general public. As a 501c3 nonprofit corporation governed by a board of directors, contributions to CAT are tax deductible and are used to help produce quality events within our community that benefit children, animals, and the environment.

C.A.T. IS AN UMBRELLA organization that includes
4Halloween Kids' Costume Contest
4July 4 Kids' Bike Parade
4Haute Dog Poetry Contest
4Interfaith Blessing of the Animals
4$1,000 National Elementary School Spelling Bee
4Nat'l Adult Spelling Bee
4Belmont Shore Sidewalk Chalk Art Contest
4Haute Dogs on the Beach events
4Haute Dog Easter Parade
4Haute Dog Howl'oween Parade
4Operation Easter Basket
4Operation Santa Paws
45k/10k Long Beach Turkey Trot
4monthly 30-Minute Beach Cleanups
4Beds, Bikes, Bears & Blankets giveaway to those in need
4Clothing giveaways to the underserved
4Bulldog Beauty Contest
4Mom Prom
4All-day Read
4Say, "Cheese" Long Beach 24-hr. digital photo contest
42nd Street Walkers
4Long Beach Giving Project
4Camp Justin!
4Long Beach Bake-Off


I AM A FIRM believer in the collective power of individuals joined in a spirit of goodwill and generous giving to bring about the success of a community.

-Justin Rudd!
Subscribe to our "photographers" Email List | Contest Rules | Facebook page | Upload Contest Photos | Model Release





EXHIBIT THIS SAT.
Sat., Oct. 20, 2012, 10 a.m. to 4 p.m. in front of Chase Bank, 5200 E. 2nd St.

AWARDS THIS SAT.
Sat., Oct. 20, 4 p.m.
The exhibit and awards ceremony will take place in front of Chase Bank, 5200 E. 2nd St. (@ Nieto Ave.), Belmont Shore. Winning photographers will each get a $100 bill.

UPLOAD PHOTOS
You can upload your photos only between 2 and 8 p.m. Sun., Sept. 16, 2012, at www.BradAndBrad.com/saycheese



NOTE: Register when you upload your photos.

-Contest Rules-



$1,000 in prize money: SAY "CHEESE" LONG BEACH! 24-hour digital photo contest & exhibit. Rules | Facebook | Enter & Upload Your Photos | Model Release


MORE THAN 100 area amateur and professional digital photographers will take part in the last SAY CHEESE LONG BEACH! photo contest sponsored by Justin Rudd and his nonprofit 501c3 Community Action Team (CAT).

For the 2012 contest, entrants will be able to submit approx. 10 or 15 of their best digital images taken within the city limits of Long Beach from 10 a.m. on Sat., Sept. 15 to 10 a.m. on Sun., Sept. 16. A panel of photojournalists and/or community leaders juried the submitted images and selected a top-10. The unveiling of the images and winners will be held Sat., Oct. 20 on 2nd St. in Belmont Shore in front of Chase Bank in Belmont Shore from 10 a.m. to 4 p.m. as part of Justin Rudd's 9th-annual Belmont Shore Sidewalk Chalk Art Contest and the Belmont Shore Art Walk.


Rules about the contest can be found below. Join our digital photographers e-mail list HERE.

PURPOSE OF THE CONTEST
The goal of SAY, "CHEESE," LONG BEACH! is to visually record all aspects of our community during the 24-hour period.
What does a typical day look like in Long Beach, Calif.? For 24 hours, life in Long Beach will be immortalized through digital photography. SAY, "CHEESE," LONG BEACH! will culminate with a major photography exhibit, reception, and awards ceremony featuring the entrants' best snapshots.

The project was created in 2008 and is presented by Belmont Shore resident Justin Rudd and his nonprofit 501c3 Community Action Team (C.A.T.).

In some year's past, a photo book was created with the images after the contest and exhibit.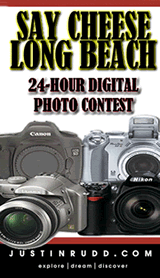 GIVE US YOUR BEST SHOT
The contest's mission is to capture images of Long Beach that celebrate this vast, vivid, vibrant city. This is your chance to explore your creative, humorous or serious side to create a blended expression of our community. The contest aims to capture moments during our lives and the life of our community -- taking us from dawn to dusk. We expect that this Long Beach family album of sorts will inspire, amuse, and on occasion, disturb.
So, picture this:
amateur and seasoned photographers of all ages, taking Long Beach photographs that define aspects of their lives during the same period. Anyone can enter -- just start snapping digital photos during the dates/times of whatever and whomever you like during the day and/or night. Photos might include, but are not limited to home life, work, religious events, secular happenings, nature/landscape, indoor life, outdoor decorations, pets, humor, drama, action, friends, family, city life, beach life or a historical place.
TO ENTER
Entry is free. Entering the contest is simple. Participants will upload their best snapshots on this Web site, and the entries received will be juried. Winning photos will be selected on criteria such as theme, photographic excellence, visual impact and artistic quality.

THE RESULT
The result will be an intricate composite of photos with fresh perspectives on Long Beach. The subjects of the images are at the discretion of the photographer. We want to see an eclectic mix of photographers with a varied range of photos from a wide variety of places in our city...from the mundane to the artsy.

CAMERA CLOCKS
We do NOT want to see time/date stamps on your photos. But, make sure the clock on your camera is set to the correct time, since all photos must be taken within the allotted time period. Digital photos allow organizers to see the day and time photos were taken.

ENTRY FORM
fill out the info and upload your photos at the same time at www.BradAndBrad.com/saycheese

CLICK HERE for the model release.

It's time for some local exposure, so pick up your camera and SAY, "CHEESE," LONG BEACH! Okay...Ready, set, click!

RULES
Photos must be taken Sat., Sept. 15, 10 a.m. til Sun., Sept. 16, 10 a.m. Make sure your camera's built-in clock is accurate.
You can upload your photos only between 2 and 8 p.m. on Sun., Sept. 16, at www.BradAndBrad.com/saycheese
See rule #11 to see how you can submit 15 images. Otherwise, a maximum of ten (10) photos may be entered by each photographer. If more than 10 photos are inadvertently submitted, only the first 10 will be considered in the judging.
There is no printed entry form to fill out. You'll input your info when you upload/submit your photos to the contest.
Contestants must know and share the names and addresses or email of all prominent/identifiable people in their photographs. CLICK HERE for the model release. Please take a photograph of your model release forms and upload/submit when prompted, along with your contest photos.
All photos must be taken within the city limits of Long Beach. There are a few exceptions that are permissible: photos of Long Beach from sea, air, or from an adjoining city; and photos of kite surfing, sailing, boating etc. in the waters of Long Beach.
Required format for each photo: digital only; 2048 x1536 pixels or larger jpeg and less than 4000 x 3000 pixels; no RAW images.
Entrants do NOT have to live in Long Beach.
Winners will be selected on the basis of originality, style, creativity, photographic excellence, visual impact, artistic quality, degree of difficulty, overall photo quality, and content (capturing a moment).
All photos must be taken within the allotted time period.
Those who attend the 10-minute informational/kick-off meeting for the contest (Sat., Sept. 15, 10 a.m. at the 10x10 white tent at 1 Granada Ave. during Justin Rudd's monthly 30-Minute Beach Cleanup) will be allowed to submit 5 additional images for the contest. Free beachfront parking at 1 Granada Ave. if you are helping to pick up trash.
Winners under the age of eighteen (18) must have the written consent of their parent or legal guardian to participate. Take a photo of the signed, written consent and submit that along with your contest photos.
Copyright of an entry remains the property of the photographer.
Entrants (or their parent or legal guardian, if applicable) shall agree that Justin Rudd and/or CAT, may, without compensation, use entrant's name and photograph for advertising, the Facebook fan page, event's Web site, and/or possible calendar or book for CAT. In each publication of the photograph, full credit will be given to the photographer.
By submitting, entrant certifies that the photo(s) he/she is submitting to this photo contest is original with him/her, and that he/she has all necessary rights and authority to submit the photo and grants to Justin Rudd and/or CAT the rights purported to be granted, including third party rights.
This is a family contest. No provocative, violent, or dangerous stunt photos. Organizers retain sole discretion as to what constitutes unsuitable content.
If it is determined after the winners are announced that any winning photo was not taken during the contest's time period, or was taken outside the Long Beach city limits, or violates another rule listed here, the prize will be revoked and another winner announced.
Photos may not be manipulated or enhanced, other than resizing or cropping.
Images must be in natural color. Black and white, sepia tone, and duotone images are not eligible.
No watermarks, signatures, or copyright notices may be added to images.
No borders or frames may be added to images.
Artistic filters and lenses (e.g. fish eye) are not permitted.
Images may be resized as long as the aspect ratio is maintained.
Images may be cropped and rotated as necessary as long as the rectangular format is maintained and the size is within the specifications above.
Modifications (other than those listed above) are NOT permitted.
Each photo exhibit image will be printed as a 4x6 and you grant us permission to print your photos for possible submission in the exhibit.
Organizers have the right to amend these rules and guidelines, as necessary, without notice.
PRIZES
4Top-10 photos
- Image will appear in the SAY, "CHEESE," LONG BEACH! photo gallery at JustinRudd.com and/or on Facebook.
- $100 cash

Q&A
4Q Who is organizing this event?
A The contest is being produced by Justin Rudd and his nonprofit 501c3 Community Action Team (C.A.T.). The goal of CAT is to implement programs, events, education, support and advocacy that will focus on animals, youth and the environment. CAT's mission is to embrace humanity with care and compassion, while encouraging those around us to explore, dream and discover the tenets of civility, kindness and understanding of all people and creatures.
4Q Who can submit photographs?
A We welcome photographs from everyone. You do NOT have to live in Long Beach, nor do you have to be a professional or experienced photographer to submit a photograph. Indeed, we hope that everyone in our community will be represented in this important event.
4Q How many photos can I submit?
A We are able to accept only 10 photographs per person. Or, see rule #11 above to see how you can submit 5 additional images.
4Q Who or what should be in the photograph?
A Everyone and everything --- including individuals, families and friends at work and play, schools, organizations, businesses, games, pets, homes, daily activities, weather, nature & whatever is happening in Long Beach --- are potential subjects for photographs. Put together, the photos submitted for the contest will create a snapshot of our community for today and the future.
4Q What type of photography may be submitted?
A digital only; 2048x1536 pixels or larger jpeg (at highest quality) or tiff only; no RAW images.
4Q Which photographs will be put in the exhibition?
A All the submitted photographs will be considered for the exhibition, except those of an inappropriate nature. We expect approx. 500 images will be printed and included in the exhibit.
4Q How do I submit a photograph?
A See Rule 1 and 2 above.


Winning Photos
Jan., 2008: CLICK
July, 2008: CLICK
Dec., 2008: CLICK
Sept., 2010: CLICK
Oct., 2011: SEE BELOW
2011 Top-10 Images
NEW PHOTOS FROM OCT. 22 EXHIBITION
- "Silk" by Vineece Rosario
- "Form and Function" by Marcie Kraft
- "Bound to the Floor" by Milisia Westcott
- "Diving for It" by Jennifer Chong
- "Hungry" by Jennifer Chong
- "Life Imitates Art" by Marcie Kraft
- "Parkers' Lighthouse Plus a Lady" by Hartono Tai
- "Titan Women" by Richard Chung
- "Go Surf a Kite" by DeeDee West
- "Seagull" by Laura Winberg

CONTACT
Email Justin@JustinRudd.com
Web www.JustinRudd.com




Copyright 2007-2012© Justin Rudd. All rights reserved. All materials (illustrations, images, text) contained on this site are protected by United States copyright law and may not be reproduced, distributed, transmitted, displayed, published or broadcast without the prior written permission of Justin Rudd.