$1,000 Spelling Bee
Each spring, Justin Rudd and his nonprofit 501c3 Community Action Team (CAT) host the National Elementary School Spelling Bee. First prize is $1,000! Public, private, parochial and home-schooled students are welcome.

Excellent Speller?

I have always been a fan of competition. As a student I participated in lots of contests -- YMCA sports; art, drama, choral & instrumental competitions; geography & science projects; spelling bees and more. When I first moved to California a few years ago, I auditioned for singing/acting jobs and was fortunate to work in many movies, TV shows and several of Disney's special events around the country. My bulldog and I competed on a TV show, "You Lie Like a Dog" on Animal Planet where we won money for local animal charities. And, even today, I continue to participate in running, swimming and biking events.

Spelling is important to me. In my current profession as a publicist/event planner, I have to do a lot of writing and reviewing of press releases. Good spelling and grammar are mandatory. When I send and receive e-mail messages, I like to make a good impression by sending documents that have perfect spelling, grammar and punctuation. I don't like to rely on "Spell-Check."

I want students to learn excellent spelling habits at an early age. Hence, the creation of this elementary school-level spelling bee championship. The contest is open to the best spellers in the U.S. Hope to see you at the Bee!

With warm regards,

Justin Rudd!
Bee Organizer

g TAX-DEDUCTIBLE
Please Support the Spelling Bee

RIGHT NOW, while the need is in your mind, won't you please donate? We receive no government monies, and depend entirely on people like you.

WE HOPE YOU share our love for animals, kids and the environment, and our wish is that you'll consider a gift of $25, $50, $100 or another amount so that we can continue to bring you and our community fun events and meaningful projects.

CHECKS to Spelling Bee, Attn. Justin Rudd, 5209 E. The Toledo #1, Long Beach, CA 90803.


I AM A FIRM believer in the collective power of individuals joined in a spirit of goodwill and generous giving to bring about the success of an organization. That's why we need you to get involved.

THE MAIN PURPOSE of the Community Action Team (CAT) is to promote social well-being among the general public. As a 501c3 nonprofit corporation governed by a board of directors, contributions to CAT are tax deductible and are used to help produce quality events within our community that benefit children, animals, and the environment.

C.A.T. IS AN UMBRELLA organization that includes Haute Dogs and:
4Halloween Kids' Costume Contest
4July 4 Kids' Bike Parade
4Dog-themed Poetry contest
4Interfaith Blessing of the Animals
4$1,000 National Elementary School Spelling Bee
4National Adult Spelling Bee
4Sidewalk Chalk Art Contest
4Haute Dogs on the Beach events
4Haute Dog Howl'oween Parade
4Operation Easter Basket
4Operation Santa Paws
45k/10k Long Beach Turkey Trot
4monthly 30-Minute Beach Cleanups
4Beds, Bikes, Bears & Blankets giveaway to those in need
4Clothing giveaways to the underserved
4Bulldog Beauty Contest
4Long Beach Losers - 12-week weight-loss contest
42nd Street Walkers

g

Justin's Free e-Newsletters



4DOG e-News


Weekly; Long Beach/LA/OC area dog news & events; 13

,900

+ subscribers


click to subscribe free


4

JUST-IN TIMES e-News


Weekly; Long Beach/LA/OC area gay & lesbian news & events; 3,500+ subscribers


click to subscribe free



NEW PHOTOS


Congrats to the 2013 National Elementary School Spelling Bee winner Arjav Rawal, 11, of Fremont, Calif. The fifth grader won $1,000, besting 49 spellers during the Bee that lasted 2 hours and 15 minutes. His winning word in Round 16 was "emeritus." Arjav correctly spelled "colossal", "barbarian", "odyssey", and "numismatic" in the final rounds.

Second place went to Ethan Yan, 10, of Mountainview, Calif. He misspelled "zydeco." The third place winner was Monica Martell, 11, of Los Angeles when she was eliminated in Round 10 after stumbling on "chic." There was a tie for fourth place by Nicolas Keller, 9, from Burbank and Keshav Sriram, 10, of Chino Hills. They incorrectly spelled "whammy" and "flaccid" in Round 8.

The highest ranking Long Beach student was Mark Twain Elementary's Amanda Berman, 11. She misspelled "constrictor" in Round 4 and tied five others for 8th place.

The Bee welcomes public-, private-, parochial- and home-schooled spellers in grades 3, 4 and 5. Last year's winner was a third-grade boy. There have been three third-graders to win in the Bee's 12-year history.



Please enter the $1,000 National Elementary School Spelling Bee Sun., Mar. 3, 2013

12th-Annual
Sun., Mar. 3, 2013, 2 p.m.
Bay Shore Church auditorium, 5100 E. The Toledo, Long Beach, Calif., 90803. Free street parking and free parking lot at the corner of Granada Ave. and Livingston Dr. MAP


4 $5 for low-income, contact Justin@JustinRudd.com
4 $20 if rec'd on or before Sun., Feb. 3
4 $25 if rec'd on or before Sun., Feb. 24
4 $30 if rec'd on event day
4 $5 cash/per spectator, at the door

WHO MAY ENTER?
This bee is for U.S. students currently enrolled in grades 3-5. We welcome students from public, private and parochial schools, as well as home-schooled students. You do NOT need your school's permission to compete.


PARTICIPATION LIMIT
There is no limit to the number of students from a school. Spellers do not have to be endorsed or entered by their school. For the 2 p.m. finals, we will accept the first 100 students to register. If more than 100 students register, we will have a spell-off at approx. 1:45 to see which spellers will advance to the 2 p.m. finals. Remember, all spellers should be present and signed-in by 1:30.

SPONSORS

RULES
CLICK

CONTACT
Justin@JustinRudd.com

2013 PRONOUNCER
Kate Karp, 2006 Adult Spelling Bee champ

GUEST PRONOUNCER FOR ROUND 1
Tim Grobaty, columnist at Long Beach Press-Telegram

DICTIONARY
Merriam-Webster's Collegiate, 11th Edition

TOP PRIZE
The Bee's winner will get $1,000 from Justin Rudd's nonprofit 501c3 Community Action Team (CAT).

OUR SISTER BEE
NATIONAL ADULT SPELLING BEE
SAME DAY Rudd and CAT also host the annual National Adult Spelling Bee to be held in Long Beach on Sun., March 3, 2013, at 4:30 p.m.. ADULT BEE DETAILS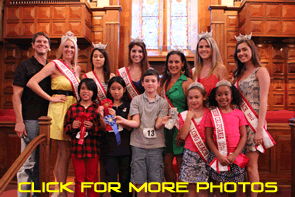 THIRD-GRADER wins $1,000 correctly spelling morphology and epiphany.


THIS WAS THE 11TH YEAR that Justin Rudd's nonprofit 501c3 Community Action Team (CAT) has awarded $1,000 to the best speller of the "$1,000 National Elementary School Spelling Bee" in Long Beach, Calif. Prize money comes from another of their very successful events -- the Long Beach Turkey Trot 5K/10K run/walk.

Jem Burch, 9, a third-grader from Golden Valley Charter School in Van Nuys won the Bee. He was lucky number "13" and beat out 67 other spellers in grades 3, 4 and 5 on Sunday.

THE WINNING WORDS for the March 4, 2012, Bee were "morphology" in Round 10 and "epiphany" in Round 11. The Bee lasted approx. 2 1/2 hours and spellers came from as far as Northern California to participate. Some misspelled words in the final rounds included "mediocre", "zydeco", "numismatic", "morpheme", "emeritus", "panacea", "obsequious", "mellifluous", "skedaddle", "gourmand", "pointillism" and "frieze."

CORRECTLY SPELLED WORDS in final rounds included "odyssey", "orthography", "gobbledygook", "wangle", "symposium", and "miscible." The winner took home $1,000 cash.

1ST: #13 Jem Burch / Golden Valley Charter School / 3rd Grade / Van Nuys
2ND (TIE): #57 Cian Jan Enguillado "CJ" / Oak Meadows Elementary / 4th Grade / Menifee
2ND (TIE): #58 Sydney Liao / TopKids / 3rd Grade / Temple City
3RD: #49 Katie Kramer / Wildwood School / 5th Grade / Los Angeles
4TH (TIE): #11 Leo Viscomi / Wonderland Avenue Elementary / 5th Grade / Los Angeles.
4TH (TIE): #15 Viviana Le / Alice M. Birney Elementary / 5th Grade / Long Beach
4TH (TIE): #20 Avjar Rawal / Stratford Schools / 4th Grade / Fremont
4TH (TIE): #41 Michael Vestey / Calavera Hills Elementary / 5th Grade / Carlsbad
4TH (TIE): #44 Grey Massey / San Jose Highly Gifted Magnet / 5th Grade / Sherman Oaks
CAT's National Adult Spelling Bee is Sun., Mar. 3, 2013 at 4:30 p.m. (details at http:AdultSpellingBee.com).

CHAMPIONS & WINNING WORDS
2002 Kelli Conley, 10, Long Beach, Calif.; legible and conscience
2003 Timothy Johnson, 11, Torrance, Calif.; belie and indebtedness
2004 Steve Wang, 11, Palos Verdes Estates, Calif.; irretrievable
2005 Gabriella Pineda, 10, Anaheim, Calif.; unacceptable and tyranny
2006 Matt Buckley, 9, Temecula, Calif.; psalm and theocracy
2007 Lily Wu, 9, Pasadena, Calif.; precocious and cautionary
2008 Giselle Serate, 10, Rancho Palos Verdes, Calif.; pharaoh and surveillance
2009 Snigdha Nandipati, 10, San Diego, Calif.; hemorrhage and impasse
2010 Atharva Patil, 9, Irvine, Calif.; telecommunication and deity
2011 Anne Jiang, 10, Rancho Cucamonga, Calif.; colander and colloquial
2012 Jem Burch, 9, Van Nuys, Calif.; morphology and epiphany
2013 You?

GET ON OUR E-MAIL LIST
To get on the Nat'l Elem. School Spelling Bee and/or Nat'l Adult Spelling Bee e-News e-mail lists, CLICK HERE and input your e-mail address.



Try this online Spelling Bee

See the 2008 word list below for words from the final rounds. And,
click here
for complete list.
g ALL EYES ON YOU
What's In a Word?


PLENTY, ESPECIALLY when it's the rigors of an elementary grade level spelling bee and one of the participants has the opportunity to walk home with a grand prize package that includes $1,000! Words like extraterrestrial, pollution, fiery and phylum must be spelled and spelled correctly under the watchful eyes and ears of judges. If that is not challenging enough for the young students (third, fourth and fifth graders), it must be done while their peers, who are also nervously awaiting their opportunity to shine, look on.
The National Elementary School Spelling Bee is designed to help students improve their spelling, increase their vocabulary, and develop correct English usage. This contest is sure to have some nail-biting, breath-bating competitors.
ALL U.S. public, private, parochial and home schools are allowed to enter any number of spellers in the $1,000 National Elementary School Spelling Bee. Students in grades 3-5 are eligible and words began on a fifth-grade level.

STUDENTS ARE ELIMINATED from the competition after misspelling one word. The rules are fashioned after the Scripps National Spelling Bee, a contest for students up to and including grade eight.

g GOOD TO KNOW
Questions and Answers


Is there a study guide for this spelling bee?
There is not an official study booklet for this competition. All words listed in the dictionary (starting at a fifth-grade level) may be considered for this contest. Complete Rules

Who goes first in the competition?
Participants will draw numbers to see who starts first (which presents an element of risk as elimination occurs in order). Complete Rules



g 100 MOST OFTEN MISSPELLED WORDS


g 100 MOST OFTEN MISPRONOUNCED WORDS & PHRASES


g A GREAT WORD LIST TO PRACTICE FROM THE CALIF. ADULT SPELLING BEE SITE